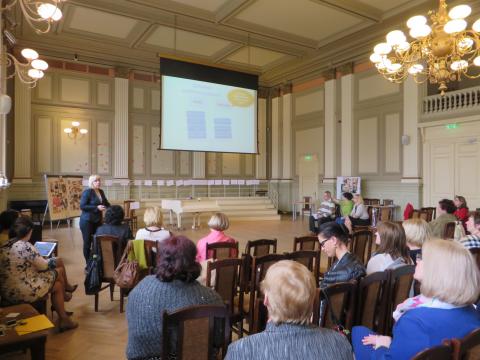 The Education, Culture and Sports Department of the Riga City Council in cooperation with the Latvian Centre for Human Rights launched four-days training for teachers "Migration, Development and Human Rights." The aim of the training is to promote teachers' comprehension about migration, human rights and development issues and to develop professional skills necessary for working with children from migrant background and re-emigrant children. By the end of the training teachers will be able to understand the link between the notions of migration, development and human rights and to transfer the knowledge acquired into the educational activities at their schools.  Additionally, competencies and skills of teachers on how to apply non-formal educational methods will be promoted.
The training will be delivered by the experts of intercultural communication, education, media, human rights and non-formal education, as well, as representatives of state institutions and civil society. Additionally, an expert on integration of students with immigrant background from Norway Saleh Mousavi will take part in the training.
The training will take place on 5, 14, 20, and 22 April in Riga.